Instantnonprofit, start your IRS compliant non profit, from idea to 501(c)(3) in less than an hour with Christian Lefer CEO Yippiekiyay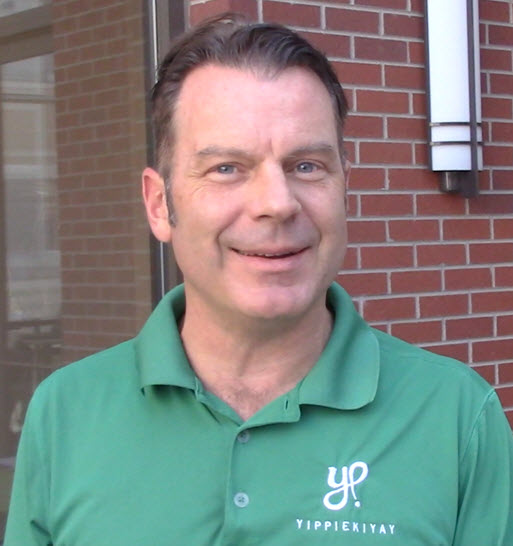 Podcast: Play in new window | Download
Instantnonprofit with Yippiekiyay, Launch Your Nonprofit, get 501(c)(3) fast & easy, and manage nonprofit compliance with Christian Lefer CEO
Fast-growing Denver Company handles your nonprofit 501(c)(3) formation and filings painlessly and for one-third of typical legal fees by combining their TurboTax-Like app with expert humans.
Whether you're a fan of tough-guy Bruce Willis or cowboy Gene Autry, you're going to love Yippiekiyay. We help you empower people and shed light into the darkness, fight the bad guys,and making the world a better place by taking on the bureaucratic obstacles to changing their community through a nonprofit.
BOB: What do your guys do?
CHRISTIAN: "We get you from 'idea' to 'IRS-approved 501(c)(3)' in less than an hour, for under $1,000, and you'll never talk to a government agent or lawyer.
"If you look at all the great movements in history, there's been a little bit of moral outrage to power them. And with this one, back in 2009 or so, 2010, I volunteered to help start a 501(c)(3), – and how difficult can that be? – I said, "Give me the paperwork. I welcome the challenge." Well, when I got a letter from the IRS and called in, they said, "Don't worry. It will take about a year for your 501(c)(3) to get approved." That's ridiculous.
[What about Ongoing Nonprofit Compliance Challenges?]:
"What many nonprofits are even unaware of, is that, say you have a little local neighborhood nonprofit, and you're providing school lunches and maybe some support to people in the neighborhood. You're in Beaumont or Port Arthur, Texas. Right now you've got the opportunity to reach out to the entire world and help in the way that you know best, on the ground, but you are prohibited from raising money in 41 states if you're not fundraising compliant, which is our other main product.
"I realized I had a holy cause with this company, and that was to enable every person out there who runs into the bureaucratic brick walls to make the biggest difference they can – and see themselves as great as they possibly can – so that they can help their neighbor and help make this world a better place.
"If we've ever seen a time where that's needed for us to pull together and help each other, it's today.
BOB: What would I be looking at in general for an expense to do this?
CHRISTIAN: "Typically you'd see $3,000 to 5,000 for starting a 501(c)(3) with an attorney. We still get phone calls where people have either given an attorney money, and since, attorneys don't generally offer a "Result guaranteed," just as you may or may not get out of the traffic ticket, you may or may not get your 501(c)(3) by the time they run out of that $2,500 retainer.
BOB: Why doesn't everybody know about you guys or use you guys?
CHRISTIAN: "Well, soon everyone will, I hope. I'm the CEO and I have to have some irrational beliefs. 😉
"But we're an early stage growth company. I wouldn't quite characterize us as a startup anymore. We have thousands of customers at this point. But we are emerging growth, and eventually you have to use all the different channels and different media today to reach people (who need our services).
[On their Amazing Staff]: "The brain trust that we've built, is like a computer before the Internet. It might have been able to crunch some spreadsheets and things, but once these computers are all connected and people are connected, the solutions that come out of that are absolutely mind-blowing. And I don't care how smart you are, I'm not smarter than three people on my staff, or five people collectively coming up with a solution for something. [On Motivating Millennials – Share the Financials!]; we had our finance guy come in and teach our staff how to read our financials, and also how to tie their life goals, the raise they want, they want to make a certain amount of money, they want to get married, buy a house, do all those things, those come out of financial results from this company. [On Serving a Market Need]: "When I discovered this need, the first thing you do is you serve the need. Every bricklayer, most of them probably started out because dad was a bricklayer, but anyone who's ever solved a problem and has any entrepreneurial bone in their body tells themselves, "Okay, maybe I could make a living or a little side hustle, make extra money doing this thing." That's exactly what I did. I started helping some folks get 501(c)(3)'s, started a little private school, helped start another sort of research organization, and got really fast IRS approvals.
"Coming up, we are now able to go scale up on fundraising compliance (a.k.a Charitable Solicitation Registration), which is becoming a huge problem for nonprofits, and then by customer demand we're bringing online training for things like high dollar fundraising and other customer needs, for example, how to run board meetings quickly and efficiently.
So (Fundraising Compliance) has been the result of sort of a perfect storm. You've got increased enforcement, you've got these onerous laws, getting more and more serious all the time, and the third factor that makes this a perfect storm is everybody's been thrust online.
BOB: Say I've had this idea forever to start a nonprofit for a cause that I want to support, how would we reach out to you or find you? Where are you at on social media?
CHRISTIAN: "We have a corporate website at www.heroes.do. It's a little bit unusual, heroes.do. But the easiest way (is to hit our product pages)… people can go to InstantNonprofit.com. It kind of says what it is. They can go to FundraisingCompliance.com and get fundraising compliant.
BOB: Parting advice?
CHRISTIAN: It wasn't put to me exactly this way, but "Overestimate the capacity of other people and underestimate their understanding." If you can do those two things… I think I just made that up.
BOB: For the folks out there that have a 501(c)(3), and maybe they're uncertain whether they're compliant or not, what should they do? Should they reach out to your company, reach to a website, how should they reach out to you guys to figure out what they're doing if they need your help?
CHRISTIAN: For Compliance; they can go to FreeComplianceCheck.com and that will just bring them, again, to a page on our website, but it's easy and catchy to remember, FreeComplianceCheck.com.
One of the best pieces of advice I ever heard was, "Charge enough to serve outrageously."
VISIT YIPPIEKIYAY AT www.heroes.do, where you can book a free consult call and get the direction you need to live your passion, serve your community, and make a difference by starting or growing your nonprofit.
websites
email
YouTube channel
https://www.youtube.com/channel/UCvagQOKG8vLklP3Gmjawjog/videos