Commercial elevator maintenance business to new franchise opportunity with Randy and Garrett McGinniss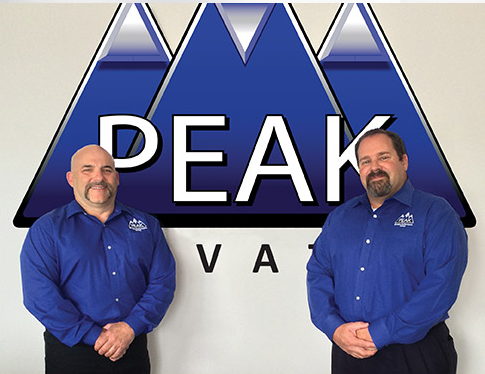 Podcast: Play in new window | Download
Commercial elevator maintenance business from 67 units on service in 2007 to a little over 1,200 units today with a management team with over 80 years of collective experience; Randy McGinnis, CEO of PEAK Elevator, and Garrett McGinnis, Director of Franchise Development for PEAK Vertical Transportation Group reveal their new franchise opportunity available in the commercial elevator business.
 "Rarely do I get goosebumps anymore about a pizza joint or a sub sandwich concept. But Randy, I have to tell ya, I've got goosebumps. Because I believe that the timing is right for your pioneering concept within your industry." Dave Hood, International Franchise Group
The franchise opportunity affords elevator professionals–that's mechanics, sales associates, and other elevator professionals–the opportunity to own their own elevator business.
"Look, rather than just hire a consulting firm right off the bat, let's test and prove this theory."
I think in this circumstance for folks that are listening, the part that appeals to me is that you go from concept to proof.
I always like to know that when you've got a conceptual idea, that you really…you put a pilot program together and you beta test, and you pilot this concept.
We believe in our research and our history tells us that there are thousands of seasoned elevator professionals in the U.S. who currently are working for another company. And you know, they're not satisfied.
The customer. They want that preventive maintenance. They want that customer care. They want that customer service feel that has kind of already vacated our industry.
How many units are there in the United States, do you reckon? Nine hundred and forty five thousand. A unit in the elevator industry is typically defined as an elevator or an escalator, or a piece of equipment that we maintain or service.
To learn more there's a three-day event, it's the 9th, the 11th, and the 13th of May 2017, we're going to offer a chance for them to come in, learn more about the concept, and really unlock some details to figure out if this is something they'd like to pursue.
We dig into all the details about the vertical transportation industry opportunity, I found it fascinating.
To learn more, listen in……
randymcginnis@peakelevator.com
garrettmcginnis@peakelevator.com