Robin Roberts: Is Bank Lending Only Available To Those With Money?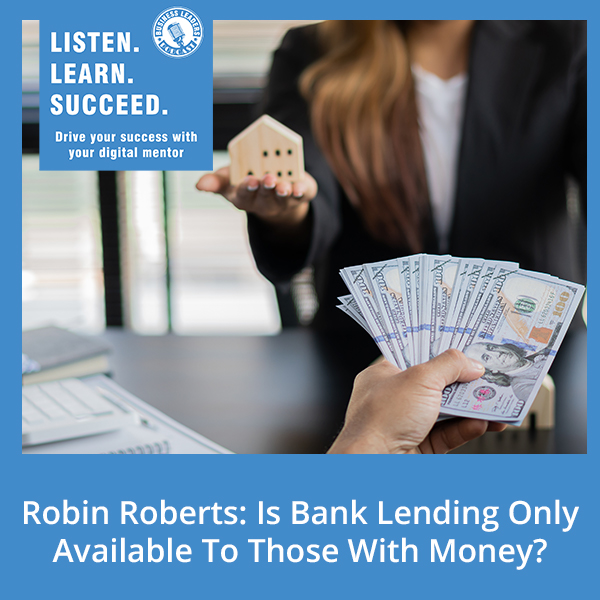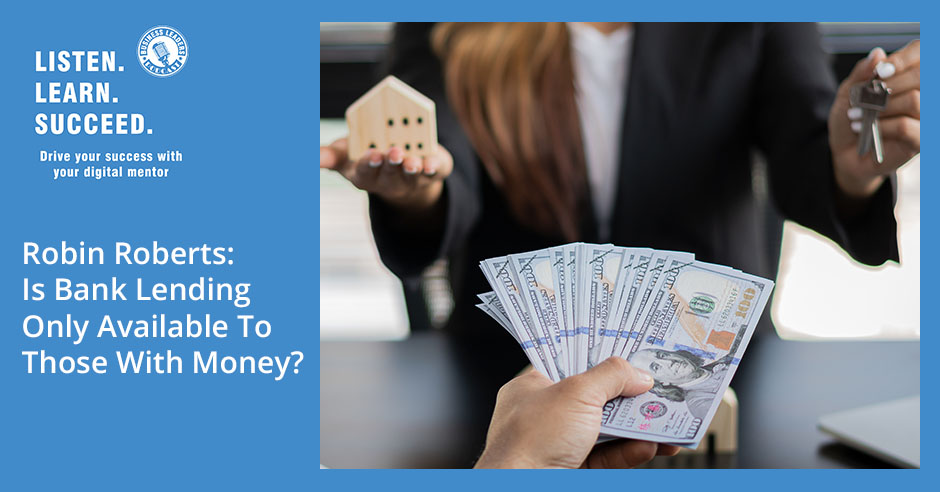 It is often believed that bank lending is only accessible to those with money. But if that's the case, then it conflicts with the entire idea of getting a loan. Breaking this misconception with Bob Roark is the CEO of Pikes Peak National Bank, Robin Roberts. She explains how banks determine the qualified persons for bank lending. She enumerates the most important factors that come into play in such transactions, from the required cash of 10% to your overall credit/FICO score.
—
Watch the episode here
Robin Roberts: Is Bank Lending Only Available To Those With Money?
Have you ever wondered why banks sometimes do things that are not quite clear? In this series, I have Robin Roberts. She's the CEO of Pikes Peak National Bank. She's going to talk about who banks lend to and why. I thought that might be interesting to the business owners out there so they might be a little more prepared. Enjoy.
—
Robin, you and I talk a lot about some of the misconceptions and things that we hear on a regular basis. You've heard more times than you would like to count, "Banks only lend to people that have money." That strikes me weird because what do you think they're going to do. Let's dive into that and talk about why that is. We have another in the series with Robin Roberts. She's the CEO of Pikes Peak National Bank, talking about questions she gets asked and some of the answers that people don't know. Here we go.
Banks lend based on your cashflow, not on the amount of money in your bank account.
Click To Tweet
The comment that is made frequently is that, "Banks only lend to people who have money. It's when you need money that banks won't lend and if you have money, then you don't need to borrow." Both of those are not true. Banks lend to people who can pay it back. Banks lend based on your cashflow not on the amount of money that you have in your bank account. We certainly look at that. That's a measure of liquidity for you as a borrower but we're looking at what cashflow is being generated either from whatever it is that you're purchasing or generated through your activities. You have a job, so you get paid every month. That's cashflow. Earnings after expenses are your cashflow and what is left over to make the payment on the loan. From a business perspective, what are your earnings? Were the revenues from your business after expenses you have profit? What is the cashflow available to take on this additional payment?
We're looking at what sources of repayment are there to pay the loan payment. You don't have to have $200,000 in the bank in order for the bank to make a loan to you. They do look at also after cashflow then what happens if the business, for some reason, can't make the payment. Is there cash in the bank? Is there cash in you, the business owner's accounts where you have some liquidity and can make payments? When you're looking at any business loan, particularly purchasing real estate, you're going to need 10% of whatever. You're going to need cash of 10%. There are government programs that can make up that difference, the down payment. You're going to have to have 10% in. If you don't have 10%, then there's a problem. You need to think about it in that way. Otherwise, banks don't make loans only to people who already have the same amount. If you want a $300,000 loan, you don't have to have $300,000 in the bank in order for us to make a loan.
There's a myriad of indicators of your ability to pay back. The fight goes, credit scores, the experience in TransUnion of the world. When banks looking at you only lend to people with money, there are also the credit score indicator. How does that play into a bank stock process?
Your credit bureau shows how you have paid credit obligations in the past. It's historical looking back over 7 to 10 years essentially. There are different companies who create some risk. A credit score is a risk. It's a measurement of your risk as a borrower based on historical patterns of paying creditors or debt obligations. I don't know what goes into a credit score because all of that is criteria. No one knows what goes into a FICO score but you can guess. You can tell what goes into your FICO score how much debt do you have. If your credit limit on all of your credit cards is $50,000 and you've used up $49,000 of that credit limit, that's going to negatively impact your FICO score because you only have $1,000 revolving credit left.
The banks are always going to be the more conservative, risk-averse lender than any other institution.
Click To Tweet
On the opposite, if you have $50,000 of revolving credit available and you used nothing of it, it's going to increase your FICO score because you have this credit available to you and you're not using it. You're having a mortgage or an installment loan on your credit that you have paid well and over sometimes improve your FICO score. Banks look at your credit score as an indication of historically you've paid your debts. We're going to assume that moving into the future, you're also going to pay your debts. Conversely, historically you haven't paid your debts, so we're going to assume that you're also not going to pay us.
I think about one of the things that perhaps get lost in translation as you take in deposits. The deposits that reside there are FDIC insured up to a certain limit. If the bank is lending deposits out on loans, you as the depositor would want to make sure that the bank is busy lending those out to credit quality people. You don't lend it to your cousin Vinny so why would the bank lend it to your cousin Vinny?
The banks are always going to be the more conservative, risk-averse lender. When you're looking at all of the options of lending, the bank generally is going to be the first place that people go. It's going to be the lowest cost as far as interest rates but it's also going to be the most conservative. We're lending FDIC insured deposits. Non-bank lenders, hard money lenders, there are so many other options. Credit cards, those types of loans are going to be more expensive but maybe easier to get because what's being lent is not FDIC insured deposits. What's being lent is private capital when it comes down to it.
There are more in the series of things that you didn't know and didn't understand about banking and why it matters as a business owner. Knowledge is some level of an edge or power. One of the things we'll do in a subsequent episode is that if you're going to a bank and you're looking at borrowing funds, how do you take and set yourself up to improve your chances of success? We'll do that one in the next episode, Robin.
It sounds good.
Important Links:
About Robin Roberts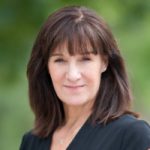 Community Banker with a passion for serving the banking and lending needs of small business owners. Particularly effective with businesses with gross revenues of less than $2 million annually. Can assist investors in commercial and residential real estate and businesses looking for commercial real estate. Banking executive with broad experience with management, recruitment, and the legal aspects of the business.
Volunteer counselor and instructor at the Colorado Springs Small Business Development Center, helping new and existing business owners with funding needs, explaining the SBA and small business lending process, business plan review and financial projection development, and commercial banking needs.